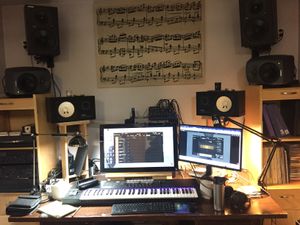 My Story...
Dave has (since kindergarten) been fascinated with music. Throughout his life he has stayed in touch with his creative instincts and eventually became interested in music composition. He has composed music in various styles including contemporary choral and jazz. Commencing with his older brother's wedding, Dave has created music compositions (i.e. "generation" music) that are based upon family and friends with pieces being linked to each other by the use of motifs and phrases from the preceding composition.
Born David Michael Aderholdt in Poughkeepsie, NY, Dave started taking piano lessons during sixth grade and started playing in bands in High School. After a brief hiatus while studying Computer Science in Boston, Dave returned to piano lessons which eventually led to a degree of Music Composition at Berklee College of Music in Boston, MA. During that time, Dave helped put together a disco band "MANGO" that played throughout New England and then spent  18 months on the road with a showband "SUNRISE" that toured the East Coast ending at Atlantic City's Resort International Casino. After a brief period of arranging pop music for the West Point Big Band, Dave met a Poughkeepsie, NY based group "The Cantata Singers" and composed an Easter cantata "There Is A Man" that was performed locally.  Also, a 130-voice choir performed Dave's "A Breath Of Praise" choral work at an inter-faith concert in the Vassar College chapel in Poughkeepsie, NY.

Since then, much of Dave's music involvement has been as the music director at St John's Roman Catholic Church in Woodstock, NY where he continues to play/conduct and arrange music. Dave was commissioned to write a celebration Overture for St John's 150th anniversary. Some of Dave's work (including his published work "His Alleluia") has also been performed at St John's and by the Reedemer Lutheran Church choir in Kingston, NY.

Dave looks forward to continuing his involvement with music during his retirement including publishing,  sharing his music (i.e. St John's church, playing at local assisted/nursing homes) and continuing to compose and record new compositions for family and friends.